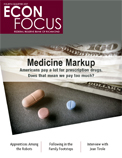 March 9, 2018
Richmond Fed's Econ Focus Magazine Looks at Prescription Drug Costs
The new issue of the Richmond Fed's Econ Focus magazine looks at spending on prescription drugs. Americans spend a lot on prescription drugs relative to other countries — does that mean we pay too much? Some observers contend that high drug prices reflect the riskiness of new drug development. Some also say that U.S. consumers are shouldering the cost of research that benefits patients worldwide. Other observers, however, dispute that U.S. drug prices are explained by high research spending. The recent introduction of costly treatments for Hepatitis C, cancer and other illnesses, along with major price increases for some existing treatments, has brought new attention to this debate.
Also in this issue:
For a free subscription to Econ Focus or for copies of the magazine, call (800) 322-0565 or subscribe online. The articles also are available online.
---
As part of our nation's central bank, the Richmond Fed is one of 12 regional Reserve Banks working together with the Board of Governors to support a healthy economy and deliver on our mission to foster economic stability and strength. We connect with community and business leaders across the Fifth Federal Reserve District—including the Carolinas, District of Columbia, Maryland, Virginia, and most of West Virginia—to monitor economic conditions, address issues facing our communities, and share this information with monetary and financial policymakers. We also work with banks to ensure they are operating safely and soundly, supply financial institutions with currency that's fit for distribution, and provide a safe and efficient way to transfer funds through our nation's payments system.
###