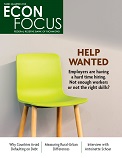 Dec. 21, 2018
Richmond Fed's Econ Focus Looks at the Tight Labor Market
The U.S. unemployment rate is down to 3.7 percent, its lowest since 1969. The new issue of the Richmond Fed's Econ Focus magazine looks at why many companies are having a hard time finding employees. Is the problem that there aren't enough workers — in other words, we're simply in a tight labor market — or that workers don't have the right skills? The answer has implications for productivity, wage growth and inflation.
Also in this issue:
Why countries avoid debt default. Throughout history, many sovereign nations have defaulted on debt obligations — sometimes repeatedly — yet creditors continue to lend to them. What enables nations to issue debt despite this uncertainty? What is the price of default once a debt burden becomes unsustainable? And do these episodes carry any lessons for the United States as it faces a rising public debt burden?
Leaving LIBOR. Trillions of dollars of financial contracts are based on an interest rate known as LIBOR. But LIBOR, which was at the center of a market-manipulation scandal in recent years, may disappear after 2021. Is the financial system ready?
What's rural? What's urban? Economic disparities between rural and urban areas have been a concern of policymakers. But the size of those disparities depends on how one defines rural and urban areas. And how should researchers factor in that some rural areas have more economic connections to urban areas than others? Understanding these differences helps researchers evaluate the drivers of economic outcomes, such as employment and poverty.
Interview. Antoinette Schoar of MIT discusses her research on the changing landscape of entrepreneurship, the influence of artificial intelligence and big data on consumer credit, and whether the housing crisis was really a "subprime" crisis.
More. Coverage of other economic issues affecting the Fifth Federal Reserve District and the nation.
For a free subscription to Econ Focus, the economics magazine of the Richmond Fed, or for copies, call (800) 322-0565 or subscribe online. The articles also are available online.
---
As part of our nation's central bank, the Richmond Fed is one of 12 regional Reserve Banks working together with the Board of Governors to support a healthy economy and deliver on our mission to foster economic stability and strength. We connect with community and business leaders across the Fifth Federal Reserve District — including the Carolinas, District of Columbia, Maryland, Virginia, and most of West Virginia — to monitor economic conditions, address issues facing our communities, and share this information with monetary and financial policymakers. We also work with banks to ensure they are operating safely and soundly, supply financial institutions with currency that's fit for distribution, and provide a safe and efficient way to transfer funds through our nation's payments system.
###