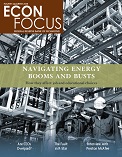 April 8, 2019
Richmond Fed's Econ Focus Looks at Energy Booms and Workers' Education Choices
Energy production often brings high-paying jobs to a locality — but the energy industry is also prone to cycles of booms and busts. In recent years, fracking technology has led to major growth in natural gas jobs in West Virginia and other states. Some workers are pursuing these opportunities at the expense of their educations, which could leave them worse off in the long run. The new issue of the Richmond Fed's Econ Focus magazine looks at the sometimes difficult choices confronting workers in an energy boom.
Also in this issue:
CEO compensation. Median pay for CEOs at S&P 500 companies quadrupled from 1993 to 2017 — even after adjusting for inflation. Have their paydays gotten too big? And what's behind the increases?
What happens when bubbles pop? For Richmond Fed economist Toan Phan, seeing the effects of Japan's housing bubble in the 1990s sparked an interest in why asset bubbles form, what the economic trade-offs of a bubble are and how the bursting of a bubble affects the economy.
Motor City, Maryland? Motor City, South Carolina? In the early 1900s, there were around 200 auto manufacturers in the United States, including in Maryland, Virginia and North Carolina. By the 1940s, there were only eight — and nearly all of them were located in Detroit. Richmond Fed research helps to explain why.
Interview. Preston McAfee, former chief economist of Microsoft and director of strategic technologies at Google, discusses how tech companies are combining microeconomics and machine learning, how economists design auctions and why he predicts the coming of a new merger wave.
More. Coverage of other economic issues affecting the Fifth Federal Reserve District and the nation.
For a free subscription to Econ Focus, the economics magazine of the Richmond Fed, or for copies, call (800) 322-0565 or subscribe online. The articles also are available online.
---
As part of our nation's central bank, the Richmond Fed is one of 12 regional Reserve Banks working together with the Board of Governors to support a healthy economy and deliver on our mission to foster economic stability and strength. We connect with community and business leaders across the Fifth Federal Reserve District — including the Carolinas, District of Columbia, Maryland, Virginia, and most of West Virginia — to monitor economic conditions, address issues facing our communities, and share this information with monetary and financial policymakers. We also work with banks to ensure they are operating safely and soundly, supply financial institutions with currency that's fit for distribution, and provide a safe and efficient way to transfer funds through our nation's payments system.
###