Print
About
Economic Quarterly is published by the Research Department of the Federal Reserve Bank of Richmond. The journal contains articles written by our staff economists and visiting scholars, and includes economic analysis pertinent to Federal Reserve monetary and banking policy.
Articles may be abstracted or reprinted in their entirety, unless they were first published elsewhere or unless the author retains the copyright. However, the author and source — the Federal Reserve Bank of Richmond as well as the Quarterly — must be credited, the Research Department must be provided with a copy of the publication containing the reprinted material, and the italicized statement below must be included:
Opinions expressed herein are those of the authors and not necessarily those of the Federal Reserve Bank of Richmond or the Federal Reserve System.
PRESIDENT AND CHIEF EXECUTIVE OFFICER
Thomas I. Barkin
DIRECTOR OF RESEARCH
Kartik B. Athreya
EDITOR
John A. Weinberg
MANAGING EDITOR
Lisa Kenney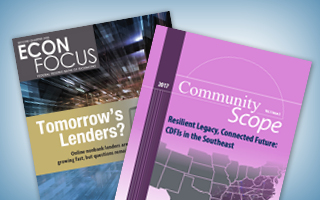 Subscriptions
The Richmond Fed publishes several quarterly magazines each year. Order recent or archived issues or subscribe to our publications.