Publications that provide information and analysis that promote the public's understanding of the Bank and the Federal Reserve System, the economy of the Fifth Federal Reserve District, and economic policy issues and research.
Additional Resources
Periodicals and special publications geared towards educating the public about economics and the functions, objectives and organization of the Federal Reserve System.
Additional Resources
Published by the Community Development Office of FRB Richmond, these publications profile community reinvestment opportunities, and programs and organizations that assist community and economic development projects.
Nov. 26, 2018
| 5th District Footprint
---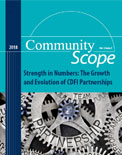 ---
Additional Resources
The Government Affairs office provides legislators and their staff timely information on our research and resources. It also provides a more in-depth view on the publications and activities we conduct throughout our region.
Nov. 26, 2018
| eBrief
The November edition of the eBrief highlights an analysis of differences between small and large banks and recent research that examines the use of cash at a national retail chain. The eBrief also features the "Investing in America's Workforce Book," which shares research, best practices and resources on workforce development that includes contributions from across the Federal Reserve System.
---
Nov. 2, 2018
| eBrief
The October edition of the eBrief features recent speeches by Richmond Fed President Tom Barkin who discussed the economy and improving labor force opportunities for workers in the Fifth District. The eBrief also includes research assessing inequality in large cities and highlights an update on the Federal Reserve's payments improvement initiative.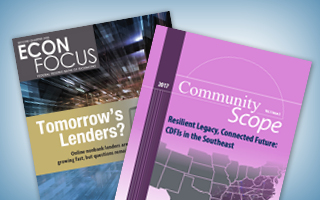 Subscriptions
The Richmond Fed publishes several quarterly magazines each year. Order recent or archived issues or subscribe to our publications.