Print
Students and Recent Graduates
Meet Us on Campus
We'd love to talk to you—and we might just be coming your way. The Richmond Fed participates in on-campus job fairs and career expos throughout the year. We can tell you more about what we do, the opportunities we have available and what life at the Richmond Fed is like. Hint: you might be surprised by all three!
Summer Internships
As an intern at the Richmond Fed, you'll play a role in helping us achieve our public service mission. You'll get hands-on experience doing meaningful work, contribute to team projects, perform community service with fellow interns, participate in professional development and social activities, and experience an unforgettable team-building program.
Our summer internships typically last 10 to 12 weeks, and co-operative education opportunities can last up to one year. Both experiences involve paid, on-site work. You'll complete tasks or a project designed to give you a broad understanding of one of the Richmond Fed's business or job areas, like Human Resources, Supervision and Regulation, or Information Systems. College sophomores, juniors, seniors or graduate students may apply. We're looking for candidates with demonstrated academic achievement and strong interpersonal and communication skills.
Most summer internship positions are posted starting September and close by early December. Interviews and offers typically take place between November and March. Start dates for summer interns usually begin at the end of May and run into August. Depending on business needs, additional opportunities may be available at other times during the year.
When searching for an opportunity, select "Internships" in the search criteria.
Research Associates
In our Research department, about 20 economists split their time between working on policy-related questions and their own independent academic research. Research associates help the economists with their research and policy memos. These memos are used to brief the Richmond Fed's president on the state of the economy, policy questions and current economic research.
If you're a recent college graduate thinking about applying to a Ph.D. program, working as a research associate is an ideal way to learn more about academic economic research.
Learn more about our research associate program. When searching for an opportunity, select "Economic/Research" in the search criteria.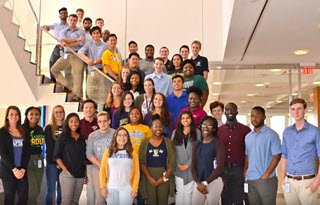 The Richmond Fed loves our summer interns! Students share their experiences from summer 2018.