Print
Community Development
Community Development publications feature our work on a variety of community development topics with a focus on the Fifth District.
5th District Footprint provides a spatial analysis of data relevant to community development in the Fifth District. The publication is available online quarterly.
5th District Spotlight communicates key facts through data visualizations about community development topics.
Community Practice Papers is an online publication discussing leading practices from across the Fifth District based on community development insight and practitioner review from the field.
Community Pulse presents the results of the annual survey of current and emerging issues in Fifth District communities.
Community Scope provides information and analysis on current and emerging issues in community development.
Marketwise Community is an online publication that highlights community development best practice models and emerging issues in the Fifth District.
The City of Richmond, Virginia's Neighborhoods in Bloom initiative invested federal grant funding in seven target neighborhoods from 1999 to 2004. The lessons learned from this reinvestment strategy help explain the impact of targeted community development efforts in disinvested neighborhoods.
The Small Business Credit Survey (SBCS) is a national collaboration of the 12 Reserve Banks of the Federal Reserve System that provides intelligence on small business financial needs, decisions and outcomes to policymakers, researchers and service providers. Read the 2016 Reports on Employer and Nonemployer Firms here.
Publications on a variety of Community Development topics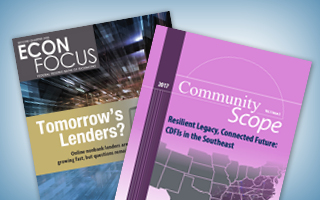 Order Publications
Subscribe or order single copies of Community Scope and other publications from the Federal Reserve Bank of Richmond.