Publications that provide information and analysis that promote the public's understanding of the Bank and the Federal Reserve System, the economy of the Fifth Federal Reserve District, and economic policy issues and research.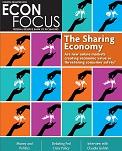 May 18, 2015
| Publication
Econ Focus, Fourth Quarter 2014
Cover Story: The Sharing Economy
Are new online markets creating economic value or threatening consumer safety?
Periodicals and special publications geared towards educating the public about economics and the functions, objectives and organization of the Federal Reserve System.
July 21, 2014
| Publication
Information and tools to help evaluate the higher education decision.
Additional Resources
Additional Resources
The Government Affairs office provides legislators and their staff timely information on our research and resources. It also provides a more in-depth view on the publications and activities we conduct throughout our region.
April 30, 2015
| Publication
This issue includes Richmond Fed President Jeffrey Lacker's speeches on workforce development and recent economic conditions, as well as an article that looks at the minimum wage as a tool for helping low-income workers and research that analyzes whether nominal GDP should be utilized as a monetary policy target or benchmark. Our Region at a Glance is also included, which is our quarterly publication that highlights activities of the Richmond Fed within the Fifth Federal Reserve District.
---