Print
Community Scope
Community Scope provides information and analysis on current and emerging issues in community development.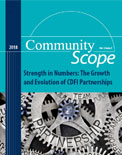 This issue of Community Scope explores new research from the Federal Reserve Banks of Atlanta, Minneapolis, St. Louis and Richmond on community development financial institution (CDFI) partnership formation, development and sustainability featuring eight case studies on CDFI partnerships.
This issue of Community Scope details the steps taken to produce the tool GEOLOOM co>map as well as background, motivation and context for creating a mapping tool to capture culture in Baltimore's communities.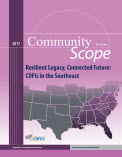 This issue of Community Scope presents key findings from the 2017 Richmond Fed's Survey of CDFIs in the Southeast.
This issue of Community Scope examines how in Washington, D.C., a network of organizers, government agency staff and affordable housing advocates have cooperatively developed quantitative and qualitative housing data to address the loss of subsidized, rent stabilized and market-affordable housing in gentrifying neighborhoods.
This issue of Community Scope will offer a broad overview of the challenges faced by today's watermen that may be precipitating their declining numbers and will discuss alternative and supplemental employment options that may be available to them.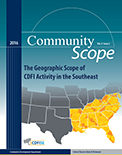 This issue of Community Scope examines the patterns in geographic service provision by respondent CDFIs in urban, rural, low- and moderate-income (LMI), underserved and distressed markets and areas.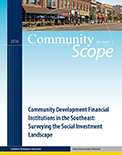 The Federal Reserve Bank of Richmond Community Development department conducts a biennial survey of community development financial institutions (CDFIs) in the Southeast region of the United States. This issue of Community Scope uses the results of the 2015 survey to present timely key findings on CDFI activity in the Southeast, including capitalization, demand, capacity, non-lending programs and services, and impact investing. We find growing demand for the products and services offered by CDFIs, including small business loans, financial education and technical assistance. CDFIs, however, continue to face financial constraints in responding to this demand.