Print
Community Scope
Email Notification
+ Share
2016, Issue 2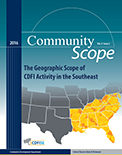 This issue of Community Scope examines the patterns in geographic service provision by respondent CDFIs in urban, rural, low- and moderate-income (LMI), underserved and distressed markets and areas.
The Geographic Scope of CDFI Activity in the Southeast
Download issue
The Federal Reserve Bank of Richmond's 2015 Survey of Community Development Financial Institutions (CDFIs) in the Southeast gathered data from 147 CDFIs, including information on the geographic area in which each respondent CDFI provides financial products and services.1 This issue of Community Scope examines the patterns in geographic service provision by respondent CDFIs in urban, rural, low- and moderate-income (LMI), underserved and distressed markets and areas. Our study finds that a county's level of urbanization does not necessarily impact the number of CDFIs that report operating in the county, but does appear to influence decisions about physical presence, with CDFIs more often headquartering in urban counties. We also find that while large percentages (over 60 percent) of individual CDFI lending portfolios are directed to LMI, distressed and underserved counties, a county's LMI, distressed or underserved status does not necessarily correspond to increased CDFI activity. Overall capitalization capacity is challenged when the need for investment extends across a large and potentially diverse geographic area, and CDFIs must be geographically strategic to effectively realize their respective social investment missions.
---
An Overview of CDFI Geographic Scope
Community development financial institutions (CDFIs) serve individuals and businesses in markets that lack access to traditional financing.2 As part of this general mission, many CDFIs also strive to produce a specific social impact, such as providing credit to women- and minority-owned businesses, increasing access to affordable housing, or financing community development initiatives in low- and moderate-income (LMI) communities.3
CDFIs can be either depository or non-depository institutions that function much like their traditional financial institution counterparts. Community development (CD) banks and CD credit unions, two types of depository CDFIs, are regulated by the same organizations that regulate traditional banks and credit unions. CD loan funds, microenterprise development loan funds and community development corporations (CDCs) are examples of unregulated, non-depository CDFIs. CDFIs can be certified by the U.S. Department of Treasury's CDFI Fund and this certification allows for participation in CDFI Fund-administered programs that provide financial support and assist with capacity building.
The Richmond Fed has run a biennial survey of CDFIs in the Southeast since 2009. The 2015 survey was distributed to 257 CDFIs and received responses from 147 of these institutions. In their responses, CDFIs were asked to indicate the geographic scope of their institution by selecting one of the following categories: national, multi-state, single state, multi-county, single county, multi-city, single city, multi-census tract or single census tract. Once the respondent indicated a general category, they were then asked to list the specific geographic area(s) in which their CDFI operates. Table 1 summarizes the number of respondent CDFIs operating at each geographic level.
The distribution of CDFIs by geographic scope indicates that some amount of scalability plays into CDFI service coverage. Respondent CDFIs reported operating with capacity constraints and relatively limited resources; however, they do not generally limit their operations to a single city or census tract. Only 11.1 percent of respondent CDFIs operate on a city or census tract-level. Meanwhile, over half of respondent CDFIs (55.3 percent) scale their operations to serve a single state or multiple counties, suggesting that the diversity of markets, clients and partnerships at the state and multi-county level supports CDFI lending activity without over-extending their resources.